Nina Echegaray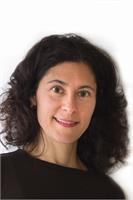 Nina Echegaray instructs the following:
A mixed level Iyengar class. Designed to accommodate both beginners and more advanced practitioners.




This class offers an introduction to the joy of Iyengar yoga, known, among other things, for its attention to correct alignment and careful sequencing of asanas. The class will be a beginner's (Level I) class, but would also benefit practitioners seeking an introduction to the Iyengar method.




This is a more advanced, and vigorous, Iyengar class, and will assume at least 12 months' experience of some form of yoga, not necessarily Iyengar. Inversions – headstand and shoulderstand – will be taught, as will linked sequences of asana (vinyasa). As the class progresses, introductory pranayama will also be taught.