Annie Alquist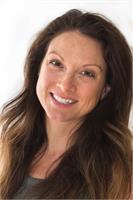 Annie Alquist is a certified yoga instructor at the 200 hour level. She has been a student of yoga for two decades, and her teaching style is inspired by the many styles of yoga she has studied in that time-- Iyengar, Vinyasa, Bikram, Anusara, and Kripalu. In addition to teaching yoga, Annie holds a bachelor's degree from Smith College and is a massage therapist and health coach specializing in using the yoga practice to heal the food relationship.
Annie Alquist instructs the following:
Modern life is stressful, and studies show that chronic levels of stress can lead to a host of ailments. The antidote to stress is relaxation. Restorative Yoga is an active relaxation practice designed to unwind deep layers of stress from your body, mind, and spirit leaving you feeling refreshed and renewed like never before. This class combines gentle stretches, breathing techniques, guided imagery and restorative yoga poses to activate your body's innate relaxation response. This supportive practice is appropriate for everyone regardless of ability, mobility, or experience with yoga. This class concludes with an optional 15 minute mediation.